Bilateral Cooperation between ΤΕΙ of Central Macedonia and Offenburg University Germany
A cooperation Meeting between the representatives of TEI of Central Macedonia (Serres, Greece) and the Offenburg University was held on April 25th and 26th in Offenburg, Germany. The meeting took place after an invitation of the Offenburg University's Rector Prof. Dr. -Ing. Dr. h. c. Winfried Lieber and the kindly intermediary support of former mayor of Achern, Mr. Reinhart Köstlin, and the German-Greek network "Deutsch-Griechische Versammlung, DGV". ΤΕΙ of Central Macedonia was represented by Prof. Dr.-Ing. Anastassios Moissiadis, Rector's representative and Prof. Dr.-Ing. Konstantinos David , Dean of Engineering School.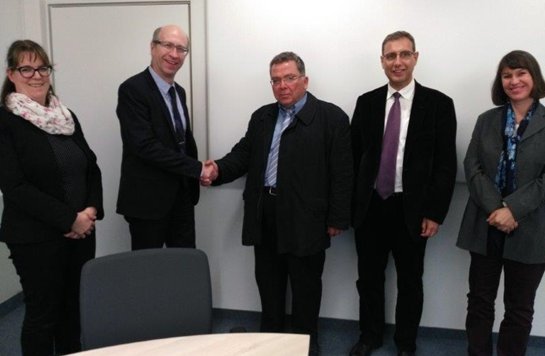 Photo of the cooperation meeting at Offenburg University (from left to right: Professors Anne Najderek, Andreas Christ, Anastassios Moissiadis, Konstantinos David, and IO Director Birgit Teubner-Jatzlau)

The aim of the meeting was to achieve an academic cooperation between the two Institutions. During the two-day sessions, the two sides examined the possibilities of cooperation in various fields. Specifically, the cooperation between the two Institutions should be implemented through the exchange of students both at undergraduate and graduate level, joint research projects, co-organizing of common summer schools and conferences and the exchange of teaching staff. The representatives of both sides have found that there is convergence in a large part of the curricula of the two Institutions and the envisaged cooperation can be smoothly realized for common benefit. As a result the two Institutions have drawn up a Memorandum of Understanding, which will be signed as soon as possible. Finally, the TEI of Central Macedonia expressed its intention to invite the representatives of Offenburg University in Serres to give them the opportunity to get acquainted with the academic activities of the Technological Education Institute of Central Macedonia.
Attachments: